Hot Air Balloon Safari
This is an excursion that is recommended to take while in
Ndutu Woodland, Central Serengeti
Serengeti North
Hot Air Balloon Safari does not interfere with your daily game drives in Serengeti
You are collected early in the morning from your Lodge, Tented Camp or Campsite early hour of the morning, by 6.30 Am you are watching the sunrise.
You get a totally different angle of photography from above.
At your request we can book for you this fantastic flight according to the season that takes place in Serengeti National Park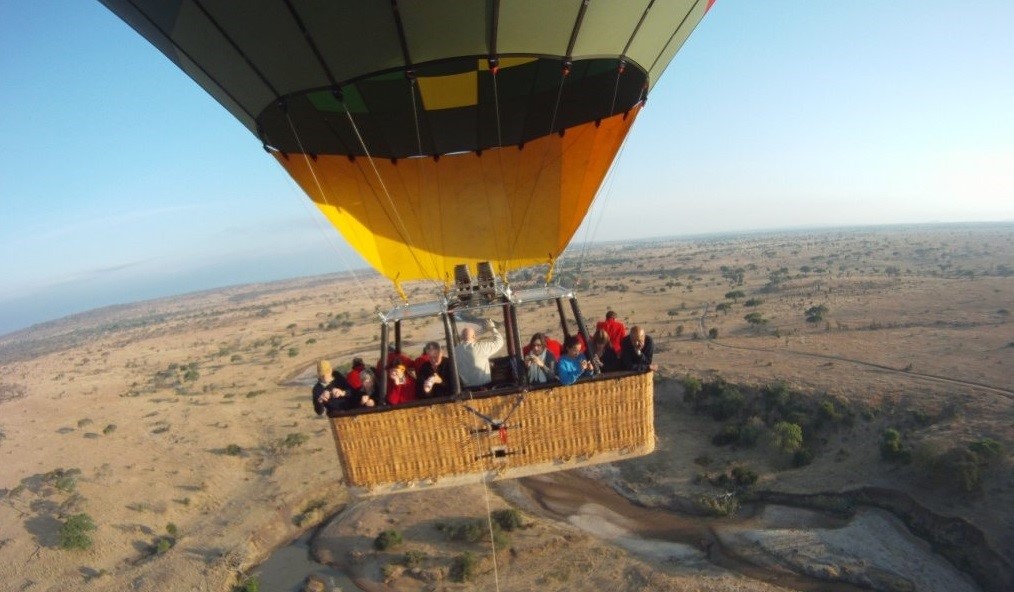 A comment from one of our clients had to say about this Hot Air Balloon Flight.
Mr. Aafeez Jivraj
1st of all my family and I would like to thank you so much for recommending and insisting us on taking the Hot Air Balloon Flight.
WOW!!!
What a flight it was!!
From my son who is practicing photography as a hobby, this is what he told me after the flight. Dad you know I have got a totally different angle of photography from the air.
Thank you Mr. Aafeez Jivraj
for recommending this flight.
Next time we will take the flight when we do the mobile safari up North Serengeti when the Wildebeest are crossing the Mara River.
My Son wants to capture the River Crossing.
Thank you for your recommendation and insisting us to take this excursion.
Our timing was just perfect to see the big herds of Wildebeest from above.
This phenomenal view, we could not have seen it while driving, the angle was totally different as you had mentioned it.
Thank you once again!!
I share with you on of the pictures my son took, it look like a Vulture Egg in the nest.
This we could not see if we were just driving.
The angle of photography is totally different!!!
Jeff Lowe – Frankfurt – Germany
February 2017
Frankfurt – Germany